While editing this pattern this afternoon, I thought it represented a great opportunity to illustrate the relationship between back balance length and the hang of the sleeves. It's a complex issue and I wonder if I will make it lucid enough.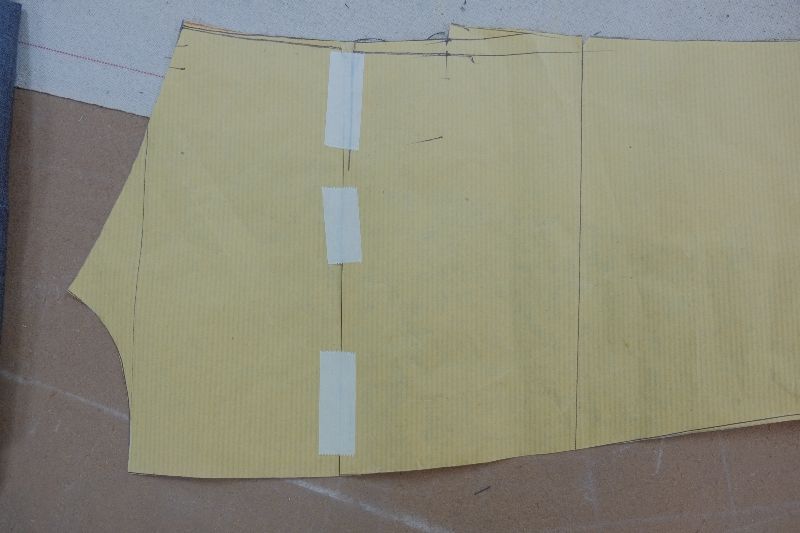 You see above the paper pattern for the back of the jacket. You see to the bottom right the neck scye. Above that, you see the shoulder line. At the top of the pattern is the armscye. About 4" to the right of the armscye, you see a vertical line in drawn in pen. This is the chest line. More importantly to our discussion, there is a shorter pen line, also vertical, about 3" in length, coming down from the armscye itself. It's partly obscured by masking tape. That's the sleeve pitch mark.
The sleeve pitch mark signals how the sleeve is to be attached to the jacket bodice. It signals the sleeve rotation, a term very popular on SF. (Many factors govern the hang of the sleeve -- the sleeve rotation is just one, and it's not even that important.)
The three masking tapes there is to secure a fold I made in the pattern. It's a fold of about 1/2" depth. The fold shortens the back balance length at precisely the place where I made it.
I do not always shorten the back balance length there (i.e. at armscye level, above the sleeve pitch mark). Sometimes, I shorten it below the level of the armscye. Sometimes I shorten it at waist level. Sometimes, I shorten it at two locations by varying amounts at each location. So even something like shortening the back balance is a nuanced affair -- you have to determine where exactly, and by how much.
A shortening of the back balance is necessary because the initial draft always errs on the side of an overly long back balance. It makes the jacket easier to fit.
The way the customer stands, and the distribution of mass at his back (determined by skeletal and muscular factors) are what determines the way the back balance is shortened.
And now I finally come to the point I want to illustrate with the picture. Shortening the back balance above the sleeve pitch mark changes the rotation of the sleeves.