Let's kick off this thread with a jacket I found in the workshop. The owner of the jacket had brought it to a cutter to have it copied. The cutter, in turn, gave it to the coatmaker with a "Nah, copy."
To be clear upfront, I do not like this coat. Let's look at the coat.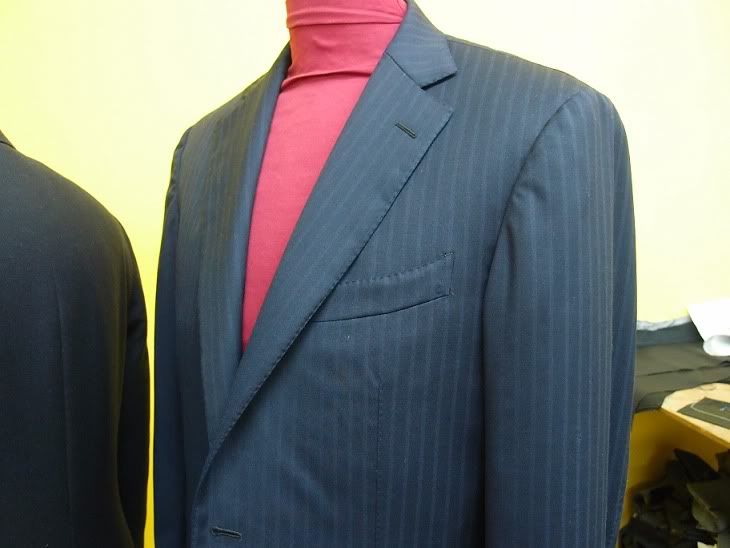 What catches the eye first is the barchetta breast pocket, immediately signalling a Neapolitan origin. The second element that announces itself is the miles upon miles of super-obvious pick stitching, which upon closer inspection, reveals a machine origin. Once upon a time when tailoring was still honest, pick stitching is supposed to be as inconspicuous as possible. It says so in every tailoring textbook. It also actually had a structural function of keeping edges crisp, or of holding pieces of cloth together. This particular pick stitching, OTOH, is purely decorative and is so loosely sewn, it has no hope of holding anything together.
What really bothers me about this pick stitching is that you find it even on the front dart. What purpose could it possibly play there? Indeed, it is unfortunate we need front darts to achieve shape, which is why tailors press it so flat so as to make it less obvious. Puttting in a row of that super-puckering pick stitching makes the darts draw attention to themselves.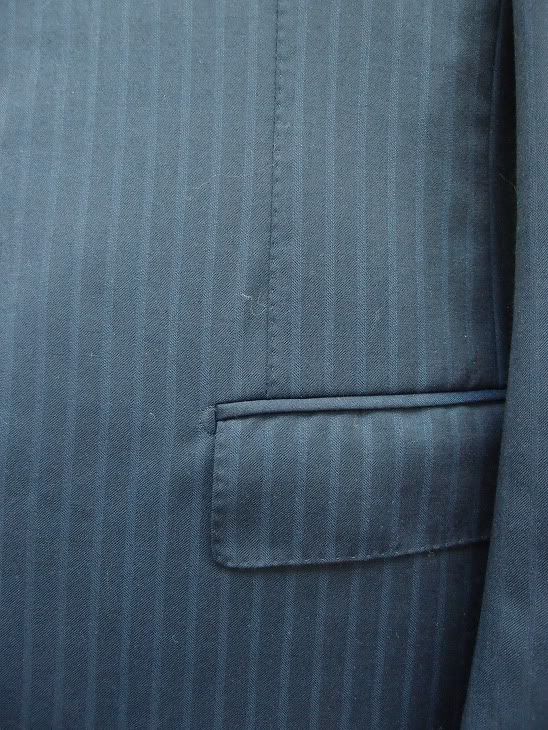 But notice also the severe puckering around the front of the sleevehead on both sides. It is clear the coat has been dry cleaned before, and by a second-rate dry cleaner at that.
The buttonholes were machined, but I have to say they are very good imitations of hand-sewn buttonholes. The lapels are padded by machine. Everything about this jacket is machined. In the picture immediately above, you notice black and burgundy shapes in the blurry background. I shall have more to say about those.
They just could not let go of the pick stitching. You find more of that obnoxious stuff on the inside of the jacket. I have never seen anything more exuberantly pick stitched.
Hah, made in Spain, eh? But why the barchetta? Here's why: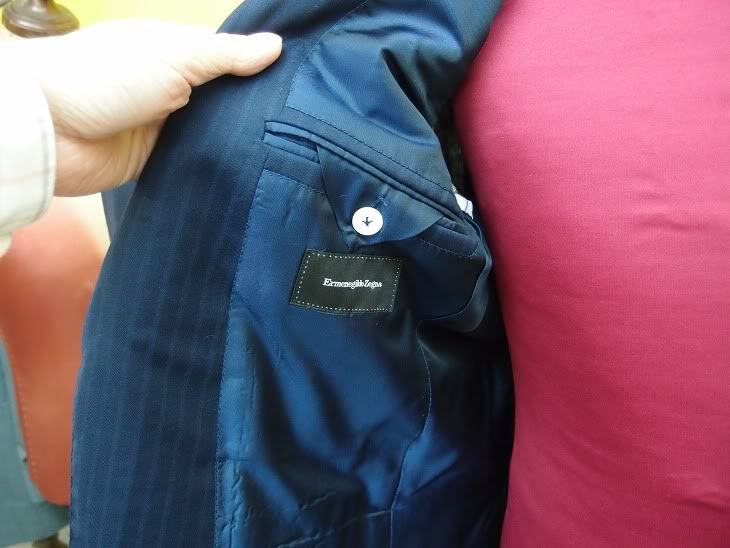 Which explains everything.
The black and burgundy shapes belong to a very expensive jacket in the making.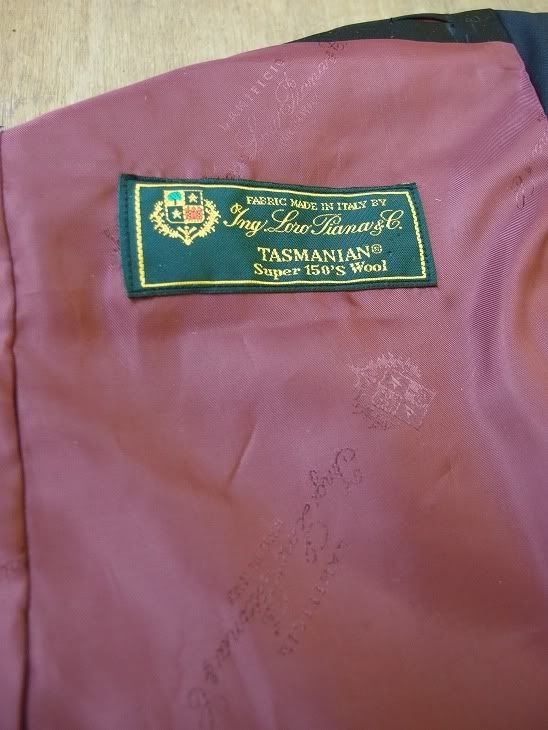 It represents the successful conclusion of a salesman's salesmanship, and it is an embodiment of somebody's dream of elegance. Both the cloth and the lining is Loro Piana. Unfortunately, it is black, and it is fused.